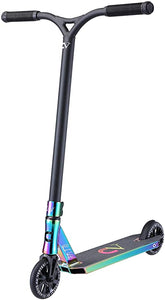 This is the exclusive CV Signature Stunt Scooter which has been developed with Claudius Vertesi. It is a great choice for entry level riders.
Claudius first started riding scooters at age 13 and has been riding ever since then. His passion and love for the sport has enabled him to travel the world, meeting incredible people and creating awesome content sharing his adventures and fun riding scooters. His main goal is to get as many young children to ride scooters and most importantly enjoy themselves. For this purpose, he created the CV Signature complete scooter. 
Claudius is famously also known for his out there bright neon colors that he paints his scooters. The CV signature complete combines very light, high quality scooter parts with vibrant colours. This is the best looking scooter you can get, made from the best quality parts.
SPECS:
Deck:
-Length: 515mm x Width: 115mm
-Head Tube Angle: 82.5°
-Sealed Bearings
-Integrated Head Tube
-Triple Concave
-Material: Extruded 6061-T6 Aluminium
Bars:
-Height: 600mm x Width: 550mm
-Oversized Design
-Material: 6061-T6 Alloy
Fork:
-CNC One-Piece
-Compression: IHC
-Material: 6061-T6 Al
Clamp: 2-Bolt Clamp with CNC Detail and Logo Detail
Wheels:
-120mm Split Forked 5-Spoke Wheel
-80mm 6061-T6 Al Core with Laser Etched Logo Detail
-88A PU
Bearings: Abec 7
Grips: S-Grips with Logo Bar Ends
Grip Tape: Digitally Printed Die Cut
Dimensions:
Total Height: 820mm
Total Weight: 3.3kg